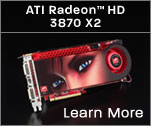 Janvāris 30, 2008
AMD Delivers Enthusiast Performance Leadership with the Introduction of the ATI Radeon™ HD 3870 X2.

Janvāris 25, 2008
Strengthening its position in the growing notebook hard drive market, Seagate has announced it is currently shipping a 250GB notebook drive that delivers a compelling combination of capacity, performance and durability for mobile computing.

Janvāris 04, 2008
Due to standard form factor and IDE or SATA interface, Transcend's SSDs can be used in most notebook computers and mainstream PCs just like regular hard drives.